Holy -Yipp-A-Dee!!!! He can do magic.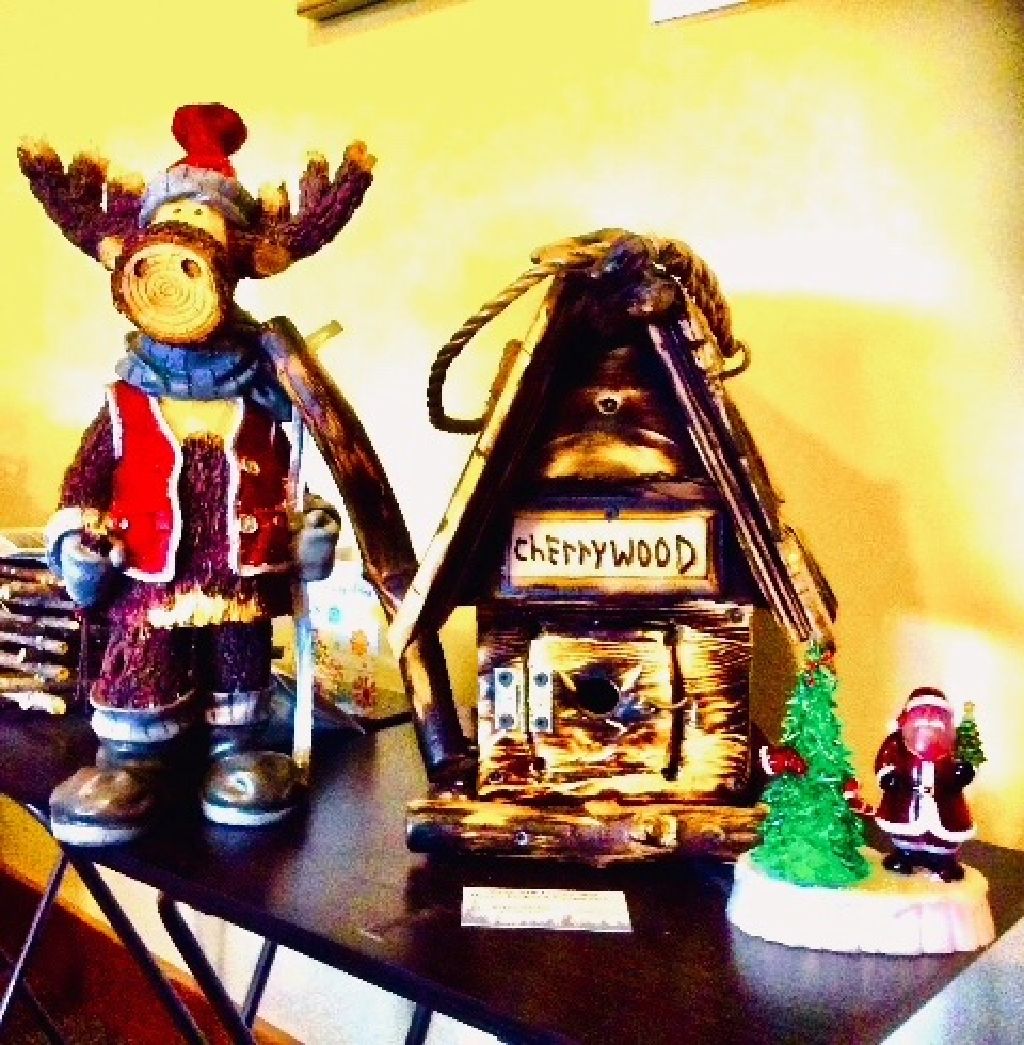 Description:
We Santa, Elves. and the Gentleman series 6 Itchy Elf sees a car coming his way. Says stop right there, looks inside and can t believe what he sees - all kinds of branches sticking out the windows, radio blasting, glove box missing, no passenger seat but inside are the beautiful things he makes. The guy gets out and says Howdy Little Buddy, they call me the Gentleman. I ve come from far away to show Santa what I make from Wood in the Forest. Well, Santa s sleeping right now but I see him peeking his head out the window as we speak. Good, says the Gentleman, I can show everyone how to make magic from these branches. Santa hears the word magic, jumps out of bed, runs around the Elves, gets up front to meet and listen to the Gentleman speak. He says You re slow in summer, but I can show you how to take magic out of the Forest, make boy and girls Christmas Gifts in the summer and have it all ready for Christmas. We re slow in summer and the Elves like working with their hands, Santa says we can even put their names on the front of the Birdhouses. But how will I remember so many names? Because your Santa Claus. The Gentleman tells Santa, I can show you how to make something from nothing and turn it into Christmas Presents for Boys and Girl s. Santa says that s fine and dandy , first he has a surprise of his own. Here comes Mrs. Claus and the Elvettes with lunch for everybody. Santa and the Elves eat so much food that it seems like it s coming out their ears. Santa gets up in the front of the Elves and says I think we know what s next: Story -Telling -Time about past Christmases. Santa gets the ball rolling with this one Christmas story. Mrs. Claus tells Santa she wanted to help him deliver Christmas Gifts. Santa told her to be ready by dark. It will be a long night. Everything seems to be going good. They re getting higher and higher all of a sudden Santa felt a tap on his shoulder. It was Mrs. Claus. She asks Did I forget to tell you I m afraid of heights? Santa says No! Now you tell me! He yells to Rudolph We gotta turn around and drop Mrs. Claus back home. Mrs. Claus sat and listened to Santa tell his story, but she s got a story of her own. Rudolph pulled up to Santa s one Christmas Eve as usual, only to find Santa was still sound asleep. Mrs. Claus goes into Santa s room. Santa wake up! It s Christmas Eve she says. Santa gets up, runs to Rudolph in his pajamas. Mrs. Claus yells to Santa You forgot to put on your Santa Suit!!. Mrs. Claus is standing by the door, suit in her hand, rolling her eyes and shaking her head. Santa: I ll Have What Mooky s Having. Elvis and Iffy Elf help Mooky keep a keen eye out for Santa s homecoming one Christmas Eve . Mooky guitar in hand, ready to play (HERE COMES SANTA CLAUS) (HERE COMES SANTA CLAUS), when out of nowhere, Santa walks right towards Mooky, that s when he s supposed to start singing, of a sudden Mooky does the unexpected, drops to knees point s his finger at Santa goes! (YOU DA MAN). Santa says that was the weirdest homecoming ever. I ll HAVE WHAT MOOKY S HAVING . Christmas comes and goes before you know it Summer s here which only means one thing, get on making Gifts from the Forest. Boys and Girls have so much fun watching birds go in and out of the Birdhouses, or eating food from the Birdfeeders. Santa says. Will do it all over again, but it s time to have some fun. It s Story -Telling -Time , Itchy Elf shares a story about this one Christmas. Santa done delivering Christmas Presents at the Johnson house, Rudolph was supposed to be there waiting for Santa but he was gone. Santa then starts Yelling at the lungs!!! Rudolph come back. Rudolph went and hid on the next block because Santa always starts jokes about him. Then Iffy Elf can t wait to share his story, this one Christmas, Santa always counting the Reindeer before leaving, but this year he counted one to many. Micky the Mule tried to slip in, Santa said to Micky you re not a Reindeer you re a Mule . Santa laughing on the inside bringing Micky back to Santaland. Then the Story -Telling -Time start s heating up when Ernie Elf recalls this one Christmas, Santa s just about done delivering Gifts at the Jones when his cell phone rings, it was Mrs. Claus wondering if Santa would be a dear and pick up some eggs on the way home, (Santa says! I m kind of busy right now!) Santa gets back to Rudolph and tells him to go to the nearest gas station. Santa walks in, Merry Christmas everyone; goes to the teller do you have eggs? the teller smiled from ear to ear. I ve been a good girl this year. Santa Winks (I know Suzie). Santa Give It Up (THUMBS Up) Archy Elf says let s get a move on, these Birdhouses should of been done yesterday. Santa and The Gentleman see how good they re coming off the line giving Archy and the Elves (Thumbs Up). Santa and Gentleman turn their chair now watching the Bird Feeder Line, Igor Elf gets in Elmer Elfs face (sorry Elmer) I m at the helm on this line so let s get it done. Santa and the Gentleman like the way the Bird Feeders are coming out, giving all the Elves (Thumbs Up).Again Santa and the Gentleman turn their chairs and are able to watch the Picture Frame Line, this time Ernie Elf running the show, yells!!! we re just about out of Wood we can use from Tornado Toad. This recycling Wood from disasters is sure making lots of boys and girls put smiles on their faces come Christmas Time. Santa and the Gentleman like the way the picture frames are coming out, giving Ernie and the Elves, (Thumbs Up). Santa gets on Bullhorn yells!!! Lunchtime, Santa brings 2 peanut butter and jelly sandwiches, chips, and some ice cold milk. After lunch all the Elves whispering between themselves saying I know what s coming next, Santa s going to say it s Story - Telling -Time about past Christmases, Santa rememberers Rudolph had his mind set on helping Santa deliver Christmas Presents to the Olsen s, Santa said they got to the Christmas Tree all the Presents had too Santa on them, Santa says. Merry Christmas to me Santa and Rudolph came out with more Presents then they went in with. Elmo Elf remembers this one Christmas the wind was blowing Santa higher and higher, pretty soon the Moon was in reach, Santa tells Rudolph to land and leave our footprints on, letting everybody know there (really is a Santa Claus) . Waiting for what seems like forever, Elmer Elf shares a story about this one Christmas the snow blowing high and mighty, Rudolph tells Santa I think we re going the wrong way? Santa says we re going the right way, a little later there was a sign saying Welcome To South America. (WHOOPS) SANTA TAKES AIM AT TORNADO TOAD IItchy and Iffy talking smack when Santa comes along unexpectedly, what are you boys up to? We re talking about the Tornado Toad that hit the East Coast, that s not good, been there many times such good boys and girls; Santa goes to his house then his happy place, and has some me time, That s where he gets his ideas from. Well we did it before I ll get Rudolph ready for one night only in the middle of summer, bringing enough Elves and trailers to haul back the Wood we use to Santaland, then will make Boys and Girls Christmas Gifts for another year. Santa says how well this trip worked out, will take a little break before we start working on putting the Wood from Tornado Toad to use. Santa has a surprise . for lunch, here comes Mrs. Claus and Elvettes bringing the Elves favorite food, no one knows what it is but the Elves sure like it. After lunch Santa stands up and tells the Elves you know what time it is? Story -Telling -Time will talk about past Christmases. Edgy Elf wants to share his favorite Christmas story; one night the Elves feeling a little frisky, Rudolph sound asleep, the Elves put a green dye pill in his drinking water, instead of his nose turning red, it turned green just for a short time then went back to his nose flashing RED. Ozzie Elf waiting to share the next story; this one Christmas Santa delivering Gifts at the Burke s just about done when little Bobby walks out, Santa can you help me open my gifts I m having trouble with hands this year; I sure will Bobby. (It s Christmas) Santa opens the first present, looks at Bobby, you got a cool train set, opens the next present you got a birdhouse with your name on it, sees Bobby yawning, go back to sleep, they ll be more presents to open tomorrow. Santa shares the story about this one time Donner wanted to help Santa deliver Christmas Presents, they got to the tree seen a note asking if he would be a dear and put the Star on top, Santa looked and looked for a ladder but couldn t find one, he came back to Donner who dropped to all fours, Santa climbed onto Donner s back lifting him high enough to put the Star on, then they shared Santa s milk and cookies. Santa LET S GIT IT ON , Tornado Toad Santa s thinking, Tornado Toad is asking for it . We ve done it before we can do it again, I ll get Rudolph ready for another Summer Journey for one night only, in the middle of the night, bringing enough Elves and trailers to help getting the cleanup done, bring back the Wood for this year s Christmas Presents, the Wood can be Birch, Oak, Pine, or any other, if we don t use it now, it will just go to waste and rot, making it into Boy s and Girl s Christmas Presents will last a lifetime. Santa says, I have to go to my Happy Place now, have a little me time, get some more ideas. Santa wakes up feeling Great. We really put Tornado Toad in his place, time to move on to better things like Story-Telling-Time. We have an eager Elve in the house waiting to share his story, Elroy Elve says one Christmas at Rama s house, Santa had one too many cookies, Santa going up the chimney got stuck halfway, they had to hook-up a rope to Rudolph and pulled him out. The Author and Gentleman Richard Lofgren. Books about what Santa and the kind Elves do in the summer, make one of a kind Boy and Girls Christmas gifts from the wood in forest, then on weekends have fun at Santa s place and let the Story Telling Time begin. ,
Visit Our Partner Website
This listing was posted on another website. Click here to open:
Go to Claz
Important Safety Tips
Meet the seller in person and inspect items before paying.
Be cautious of underpriced offers.
Don't wire money or take advance payments.
Only pay for shipping if you know the seller.
To learn more, visit the Safety Center or click here to report this listing.
More About this Listing: Holy -Yipp-A-Dee!!!! He can do magic.
Holy -Yipp-A-Dee!!!! He can do magic. is a Books & Magazines for Sale located in Hollywood CA. Find other listings like Holy -Yipp-A-Dee!!!! He can do magic. by searching Oodle for
Books & Magazines for Sale in Los Angeles
.